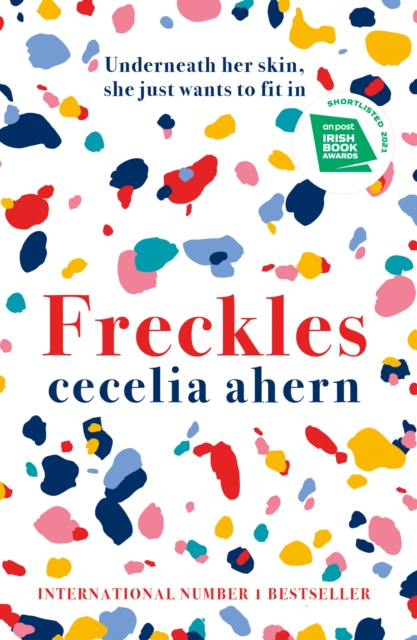 Freckles
From Shelf: Books published w/c 20th September 2021
Readers are dotty about Freckles - discover this 5-star read: 'Wow' 'Heartwarming' 'Uplifting' 'Thought-provoking' 'One of those rare, special and unique heroines' 'A joy to read' Shortlisted for the 2021 An Post Irish Book Awards
Readers are dotty about Freckles - discover this 5-star read: 'Wow' 'Heartwarming' 'Uplifting' 'Thought-provoking' 'One of those rare, special and unique heroines' 'A joy to read'
Shortlisted for the 2021 An Post Irish Book Awards
Sometimes the people who have the power to change your life are the ones who have been there all along...
Like stars in the dark skies above the tiny island where she grew up, freckles scatter Allegra Bird's arms, a link to her beloved father. She's never known her mother.
In a quest to find the one thing she's missing she begins a bold new life in Dublin. But she's left a lot behind.
So when a stranger tells her she's the sum of five people - the five people she spends the most time with - she's suddenly no longer seeking one person. She's looking for five.
And the truth lies in unexpected places...
Life-affirming, beautiful and thought-provoking, Freckles is an unforgettable novel of five people, five chances and one woman's search for happiness.
'A heart-warming story about loneliness and connection' Daily Mail
'An endearing story of human frailty, connection and growth' Irish Independent 'A warm and bittersweet tale about finding yourself through family and friendship' Sunday Telegraph 'A moving story, absorbing characters, engaging writing, and as much of a page-turner as you'd expect from a bestselling novelist'' Irish Times 'Cecelia Ahern never follows the crowd and her latest novel is a delight - funny, thought-provoking and original' Mirror 'Warmly smart and astute story' Independent 'Ahern was born to write and her books born to be read by all' My Weekly 'Asking boldly what and who make us who we are, Freckles manages to team wit and wisdom harmoniously' Echo
Format:
Paperback / softback
Publisher:
HarperCollins Publishers
Dimensions:
234mm x 153mm x 26mm
Category:
Modern & contemporary fiction (post c 1945)
Currently unavailable to Buy Local
RRP: £12.99
Format: Paperback / softback
ISBN: 9780008194932
---
Shelves containing this book
Viewing
1
to
1
of
52
books
Viewing
1
to
1
of
9
books