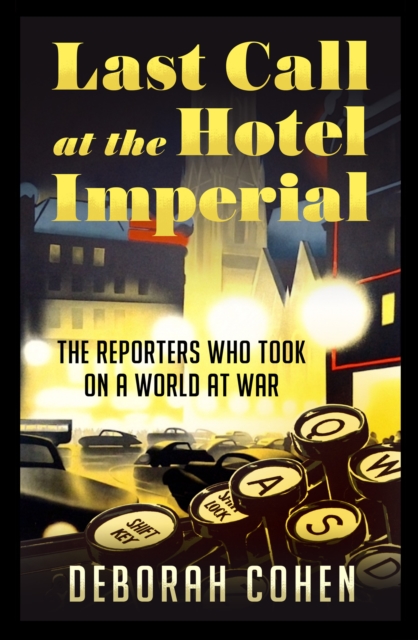 Last Call at the Hotel Imperial
From Shelf: The Story of a Life
'Effervescent' New Yorker Best Books Of 2022 So Far 'Bursts with colour and incident' FT Best Books of Summer
'Effervescent' New Yorker Best Books Of 2022 So Far 'Bursts with colour and incident' FT Best Books of Summer
Read this prize-winning historian's "immersive" ( New York Times) account of the famous writers who, in the run-up to World War II, took on dictators and rewrote the rules of modern journalism
They were an astonishing group: glamorous, gutsy, and irreverent to the bone. As cub reporters in the 1920s, they roamed across a war-ravaged world, sometimes perched atop mules on wooden saddles, sometimes gliding through countries in the splendour of a first-class sleeper car. While empires collapsed and fledgling democracies faltered, they chased deposed empresses, international financiers and Balkan gunrunners, then knocked back doubles late into the night.
Last Call at the Hotel Imperial is the extraordinary story of John Gunther, H.R. Knickerbocker, Vincent Sheean, and Dorothy Thompson: a close-knit band of wildly famous American reporters who, in the run-up to World War II, took on dictators and rewrote the rules of modern journalism.
In those tumultuous years, they landed exclusive interviews with Hitler, Franco and Mussolini who sought to persuade them of fascism's inevitable triumph. Nehru and Gandhi also courted them, seeking American allies against British imperialism. Churchill saw them as his best shot at convincing a reluctant America to join the war against Hitler.
They committed themselves to the cause of freedom: fiercely and with all its hazards. They argued about love, war, sex, death and everything in between, and they wrote it all down. The fault lines that ran through a crumbling world, they would find, ran through their own marriages and friendships, too.
Told with the immediacy of a conversation overheard, this revelatory book captures how the global upheavals of the twentieth century felt to live through up close.
Format:
Paperback / softback
Publisher:
HarperCollins Publishers
Published Date:
16/3/2023
Dimensions:
198mm x 129mm x 37mm
Category:
Biography: historical, political & military
RRP: £10.99
Format: Paperback / softback
ISBN: 9780008305901
---
Shelves containing this book