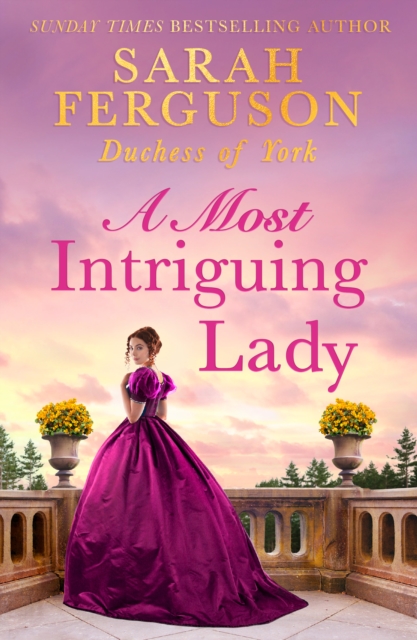 A Most Intriguing Lady
From Shelf: Come on Barbie, Let's Go... to the Library? 💕🦩🧠🧁🌸
The new Sunday Times bestseller!
'She's done it again, and I bet this one will be even more successful.' Jeffrey Archer
'Written with an incredible eye for detail of the historical setting, this wonderful romantic tale will earn your respect and keep you entertained' Adele Parks
'If you loved Her Heart for a Compass, you will love A Most Intriguing Lady' Sunday Times bestselling author Fern Britton
'A rollicking, romantic tale of love and intrigue in aristocratic Victorian Scotland. Sarah Ferguson's fascinatingly detailed novel kept me turning the pages as it's very entertaining.' Dame Joan Collins
'A wonderful and colourful romance, well-researched, well-realised, and rich in historical detail. In short, another beguiling read from the Duchess of York'Lord Julian Fellowes
'A fantastic historical mystery with plenty of passion as you would expect from the Duchess of York. A triumph'New York Times bestselling author Roma Downey OBE
'Fast paced, romantic and good fun, this is a modern take on a classic period, with delightful characters to boot.' Candis Magazine
Scandals, seduction and secrets... and one woman's quest to uncover the truth. The most intriguing historical romance of 2023. Perfect for fans of Bridgerton.
Victorian London is notorious for its pickpockets. But in the country houses of the elite, gentleman burglars, art thieves and con-men prey on the rich and titled. With reputations at stake, wealthy victims wouldn't dream of going to the police. They need a society insider, a person of discretion and finely-tuned powers of observation, adept at navigating intrigue...
Lady Mary Montagu Douglas Scott is the fiercely intelligent youngest daughter of the Duke and Duchess of Buccleuch. Mary has deliberately cultivated a mousey persona that allows her to remain overlooked and underestimated by all. It's the perfect cover for a sleuth...
At a party at Drumlanrig Castle, Mary meets the handsome, distinguished war veteran, Colonel Walter Trefusis, and finds her powers of deduction tested.Like Mary, he too lives a double life, and together they form unlikely alliance to solve a series of audacious crimes ...
Publisher:
HarperCollins Publishers
Published Date:
30/3/2023
Dimensions:
240mm x 159mm x 35mm
Category:
Historical romance
RRP: £14.99
Format: Hardback
ISBN: 9780008512972
---
Shelves containing this book