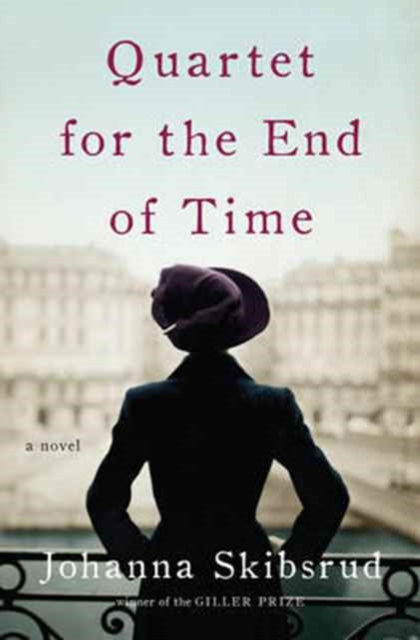 Quartet for the End of Time
From Shelf: New in hardback fiction this week!
Giller Prize-winning author Johanna Skibsrud spins a masterful tale about memory and war.
Inspired by and structured around the chamber piece of the same title by the French composer Olivier Messiaen, Quartet for the End of Time is a mesmerizing story of four lives irrevocably linked in a single act of betrayal. The novel takes us on an unforgettable journey beginning during the 1930s Bonus Army riots, when World War I veteran Arthur Sinclair is falsely accused of conspiracy and then disappears. His absence will haunt his son, Douglas, as well as Alden and Sutton Kelly, the children of a powerful U.S. congressman, as they experience-each in different ways-the dynamic political social changes that took place leading up to and during World War II.
From the New Deal projects through which Douglas, newly fatherless, makes his living to Sutton's work as a journalist, to Alden's life as a code breaker and a spy, each character is haunted by the past and is searching for love, hope, and redemption in a world torn apart by chaos and war. Through the lives of these characters, as well as those of their lovers, friends, and enemies, the novel transports us from the Siberian Expedition of World War I to the underground world of a Soviet spy in the 1920s and 1930s, to the occultist circle of P. D. Ouspensky and London during the Blitz, to the German prison camp where Messiaen originally composed and performed his famous Quartet for the End of Time.
At every turn, this rich and ambitious novel tells some of the less well-known stories of twentieth-century history with epic scope and astonishing power, revealing at every turn the ways in which history and memory tend to follow us, and in which absence has a palpable presence.
Publisher:
WW Norton & Co
Published Date:
4/11/2014
Dimensions:
244mm x 170mm x 38mm
Category:
Modern & contemporary fiction (post c 1945)
Currently unavailable to Buy Local
RRP: £17.99
Format: Hardback
ISBN: 9780393073737
---
Shelves containing this book