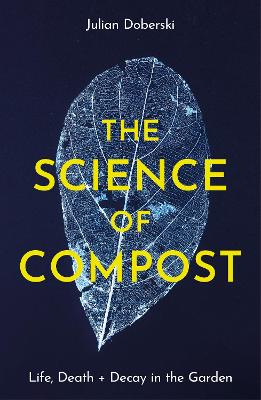 The Science of Compost
From Shelf: Wish list
Reveals the how and the why of the compost heap and the important role it plays in the garden.
The Science of Compost: Life Death and Decay in the Garden takes you on a journey into the underworld of composting. Doberski explains the science of what goes on but also promotes interest in the living organisms who provide the 'hard graft' of transforming waste organic matter. It can be hard to envisage the hundreds, thousands or millions of different organisms involved but The Science of Compost reveals the secrets of this hidden world.
Gardeners are familiar with the magic of compost and it is easy to see what goes in - organic waste - and what comes out - wonderful, friable and fertile compost - but what magic causes that to happen? Doberski explains what kind of 'mysterious' and complex chemical, physical and biological processes contribute to make composting effective. He covers the structural nature of decaying and dead plant material, the micro-organisms and invertebrates contributing to decomposition, and the combination of chemical, physical and biological factors which determine rates of decay.
Although not a practical manual of composting, by explaining the science of what goes on in composting Doberski provides pointers to gardeners for getting composting right.
Format:
Paperback / softback
Publisher:
Pimpernel Press Ltd
Published Date:
11/8/2022
Dimensions:
198mm x 129mm
Category:
Botany & plant sciences
RRP: £9.99
Format: Paperback / softback
ISBN: 9781914902932
---
Shelves containing this book