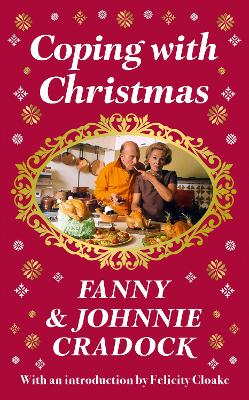 Coping with Christmas
From Shelf: Pocket-sized Presents
With a new introduction by Felicity Cloake "Fanny Cradock is the Queen of Christmas cooking" - The Telegraph
With a new introduction by Felicity Cloake
"Fanny Cradock is the Queen of Christmas cooking" - The Telegraph
Keep Calm and Fanny on! A fabulously festive companion to navigating the party season with aplomb.
Stuffed full of jolly recipes, decorations and plans in this new edition of her classic 1968 guide, British culinary icon Fanny Cradock comes to your festive rescue. In her eyes the hostess's role is as much set designer and theatre director as caterer. She is obsessively thrifty, fierce in her determination to Make an Impression, and just can't resist taking things too far; if something can be filled, covered in aspic or deep fried, it usually is... Fanny just can't help herself.
And when times get truly tough, there's a whole chapter of 'Slap Happy Crisis Substitutes for Serious Cookery'.
Told with Fanny's trademark caustic wit and overblown attention to detail, and with a new foreword by food writer Felicity Cloake, 'Coping with Christmas' is a waggish wink to help find the magic along the way, and the ideal gift for any host feeling fettered by the expectation of a 'perfect' Christmas.
Publisher:
HarperCollins Publishers
Published Date:
10/11/2022
Dimensions:
222mm x 141mm x 33mm
Category:
Cooking for parties
RRP: £14.99
Format: Hardback
ISBN: 9780008532277
---
Shelves containing this book