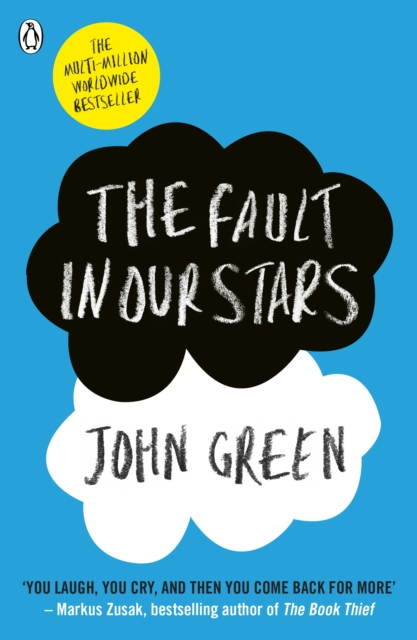 The Fault in Our Stars
From Shelf: All the books I read in the first half of 2023!
Despite the tumor-shrinking medical miracle that has bought her a few years, Hazel has never been anything but terminal, her final chapter inscribed upon diagnosis. But when a gorgeous plot twist named Augustus Waters suddenly appears at Cancer Kid Support Group, Hazel's story is about to be completely rewritten.
I fell in love the way you fall asleep: slowly, then all at once.Despite the tumour-shrinking medical miracle that has bought her a few years, Hazel has never been anything but terminal, her final chapter inscribed upon diagnosis. But when a gorgeous plot twist named Augustus Waters suddenly appears at Cancer Kid Support Group, Hazel's story is about to be completely rewritten.Insightful, bold, irreverent, and raw, The Fault in Our Stars brilliantly explores the funny, thrilling, and tragic business of being alive and in love.Praise for The Fault in Our Stars: Sunday Times (Culture) 'A touching, often fiercely funny novel'The Sun on Sunday (Fabulous Magazine) 'So good I think it should be compulsory reading for everyone!'Daily Express 'John Green brilliantly captures the voices of a young generation while instilling it with the wisdom of a life that has lived too much yet will never live enough'The Metro - 2013 Best Fiction 'The love affair of two terminally ill teenagers could be mawkish. In fact, it's funny, clever, irreverent and life-affirming.'Grazia 'So good!'Good Housekeeping 'As funny as it is heartbreaking... we defy you not to fall in love with its main characters, Hazel and Augustus.'The Tablet 'A humourous and poignant love story... It's terrifically funny... as well as a moving exploration of loss and grief. And no, it's so much not just for teenage cancer sufferers... it's for everyone.'Bliss 'If you need inspiration when it comes to making the most of a moment, this one is for you'Mizz 'Insightful, bold, irreverent and raw, if this doesn't make you cry, it'll definitely make you think, laugh and maybe even fall in love yourself!'
Format:
Paperback / softback
Publisher:
Penguin Random House Children's UK
Dimensions:
198mm x 129mm x 21mm
Category:
Romance & relationships stories (Children's / Teenage)
RRP: £8.99
Format: Paperback / softback
ISBN: 9780141345659
---
Shelves containing this book
Valentine's My Favourite Love Stories
Viewing
1
to
1
of
15
books