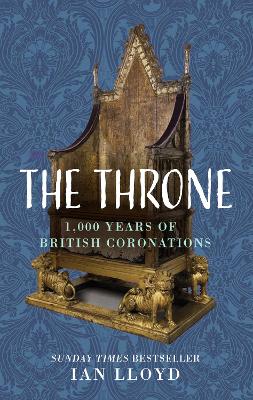 The Throne
From Shelf: A Right Royal Occasion!
The eventful history of British coronations from 1066 to the present day.
From the crowning of Charles III, thirty-nine coronations have been held in Westminster Abbey since the Norman Conquest. Only two monarchs - Edward V and Edward VIII - were uncrowned, and a further twenty or so Scottish monarchs were crowned elsewhere, usually at either Scone Abbey or Holyrood Abbey.In The Throne, Ian Lloyd turns his inimitable, quick-witted style to these key events in British royal history, providing fascinating anecdotes and interesting facts: William the Conqueror's Christmas Day crowning, during which jubilant shouts were mistaken by his guards as an assassination attempt; the dual coronation of William and Mary in 1689; the pared-back 'Half Crown-ation' of William IV; and the televised spectacle of Elizabeth II's 1953 ceremony.Detailing everything from the famous Coronation Chair made for Edward I and the Crown Jewels to the infamously uncomfortable Gold State Coach - this is a truly spectacular celebration of British culture and the ultimate pomp of royalty.
Publisher:
The History Press Ltd
Dimensions:
216mm x 138mm
Category:
Social & cultural history
RRP: £16.99
Format: Hardback
ISBN: 9781803992860
---
Shelves containing this book