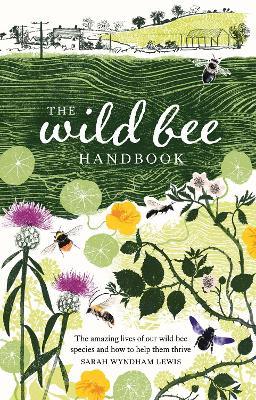 The Wild Bee Handbook
From Shelf: Spring to Life
The Wild Bee Handbook is a beautifully illustrated celebration of the wild pollinators, offering practical advice to help them thrive
From the bestselling author of Planting for Honeybees, The Wild Bee Handbook is a celebration of the wild bees, those vital pollinators of the natural world and unsung guardians of our food chain.
From bumblebees to solitary species, it's a beautifully illustrated, informative guide introducing you to their amazing lives and equipping you with practical gardening knowledge of the plants and habitats they need. Discover common and uncommon wild bees to spot out and about in town and country. Learn how vital they are to the ecosystem and how to help them thrive with The Wild Bee Handbook.
Featuring extensive planting advice, this book is an essential, hands-on resource for anyone interested in bees, biodiversity and sustainable gardening, with sections on container gardening, the no-dig method, building organic soil health, and easy ways to bring the wild back into your growing, whether you have a large space or just a city windowsill.
Introducing you to the wild and wonderful world of bees, The Wild Bee Handbook is a fascinating way to learn more about supporting these essential creatures.
Publisher:
Quadrille Publishing Ltd
Published Date:
13/4/2023
Dimensions:
216mm x 138mm x 20mm
Category:
Gardening: flowers
RRP: £17.99
Format: Hardback
ISBN: 9781787139183
---
Shelves containing this book