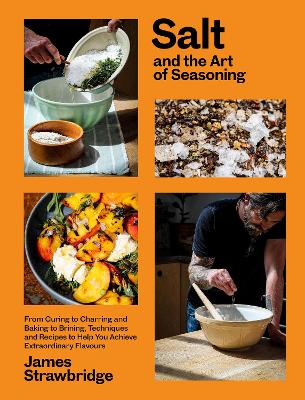 Salt and the Art of Seasoning
From Shelf: The BA Summer Books Catalogue
'A cure and a tonic...a wonderfully gritty book, full of recipes I'd happily bring to the table.' Gill Meller, author of Outside
'[A] worthy and inspirational homage to the most essential ingredient in our pantry.' Tom Hunt, author of Eating for Pleasure, People & Planet
'[The] recipe book that will make all your other recipe books taste better.' The Telegraph
'A paean to the transformative effects of natural salts.' The Observer
A precious and ancient resource used for thousands of years around the world, salt is the essential ingredient that transforms all cooking, elevating flavours from good to great, and from great to unforgettable.
In his stunning new cookbook, chef and TV presenter James Strawbridge shares his passion for this artisan ingredient, from the distinctive tasting notes and profiles of different salts found around the world to useful techniques - such as brining, curing, charring and preserving - that bring out a world of hidden flavours.
Salt and the Art of Seasoning will show you how to choose the right type of salt for the right dish, how to add it at the perfect moment and how to judge the amount to use.
Inside, you'll find:
The Science of TasteA Salt Sommelier's GuideWhat 'season to taste' actually meansJames's 'Salt Craft' - from salt blocks to salt baking and smoking salt
With nearly 100 recipes, including:
8 essential flavoured salts from black garlic to red wine Salted Cornish sardinesCured egg carbonaraSmoked salted butterWild garlic focacciaVegan Buffalo Cauliflower WingsSalt-baked Wild Bass Minted pea risotto with smoked sea salt Salt Chocolate Truffles with GorseSea G&T with Seaweed Salt and more!
Salt and the Art of Seasoning is destined to become a kitchen essential - just like the humble ingredient it champions.
Publisher:
Chelsea Green Publishing UK
Published Date:
17/5/2023
Dimensions:
247mm x 178mm x 26mm
Category:
Cookery by ingredient
RRP: £27
Format: Hardback
ISBN: 9781915294036
---
Shelves containing this book