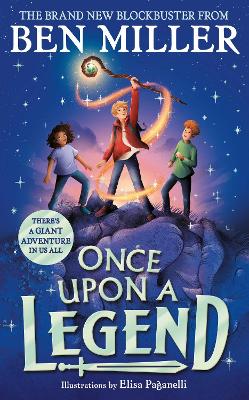 Once Upon a Legend
From Shelf: The BA Christmas Catalogue.
The next bestselling adventure from Ben Miller - The Sword in the Stone meets The BFG.
The GIGANTIC brand new magical adventure from Ben Miller, bestselling author of The Day I Fell into a Fairytale. Marcus has just started Merlin's, a very unusual school... He doesn't like it and is doing everything he can to get into big trouble and be sent home. When a midnight prank accidentally wakes a sleeping giant called Crom, things take a turn for the magical. But there are other giants on the move, bigger and angrier than Crom. Realising that Merlin's and the whole country are in danger, it's a race against time for the two new friends to find the magic of their own bravery.Turn the page, share the adventure in a magical story for all the family, illustrated by Elisa Paganelli.
Praise for Ben Miller:'A magical adventure' Sunday Express on The Day I Fell Into a Fairytale'Great for reading aloud' The Week Junior on The Day I Fell Into a Fairytale'A fire-side gem of a story' Abi Elphinstone on The Night I Met Father Christmas'Fabulous' Sunday Express on The Boy Who Made the World Disappear'Enchanting, funny and intriguing in equal measure' Philip Ardagh on The Night I Met Father Christmas
Publisher:
Simon & Schuster Ltd
Published Date:
31/8/2023
Dimensions:
216mm x 135mm x 26mm
Category:
General fiction (Children's / Teenage)
RRP: £14.99
Format: Hardback
ISBN: 9781398515871
---
Shelves containing this book