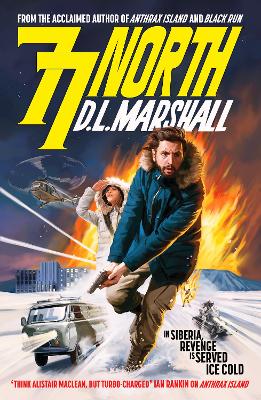 77 North
From Shelf: The BA Christmas Catalogue.
In Siberia, revenge is served ice cold.
The epic third instalment from the author of the acclaimed Anthrax Island and Times book of the month, Black Run.
An agent the world thinks is dead can be useful. John Tyler has gone rogue, pursuing an international vendetta against those responsible for killing his brother.
But he's lured back by the CIA for one final mission to wipe the slate clean. Simple, for a man like Tyler: journey to an old Soviet-era hotel on an ice-locked island in the frozen wastes of Siberia to obtain information from a Russian scientist about a double agent within NATO. But strange things are afoot, events related to the hotel's grisly past and the KGB's Cold war experiments into psychic phenomena...
Unexplained deaths revolve around the scientist, and with enemies from Tyler's own past emerging from the rotting woodwork, he must fight to keep the man alive against the odds. But a killer stalks the hotel's dilapidated corridors, able, apparently, to kill through concrete walls and sealed doors. As Tyler homes in on the NATO double agent, he quickly realises nothing is as it seems, no-one can be trusted, and his own past is coming back to haunt him...
From the steaming jungles of central Africa to the bustling streets of London via the frozen tundra, this is the heart-stopping final instalment in the John Tyler trilogy. Perfect for fans of Alistair MacLean and Robert Ludlum.
Praise for the John Tyler series
'Sharp enough to cut glass, 77 North is a bullet-quick, best-of-breed action thriller' James Swallow, author of Dark Horizon
'Riotously thrilling and deftly intelligent, turning the mayhem up to eleven whilst surgically exploring ideas of duty and honour and betrayal and revenge' Dominic Nolan, author of Past Life
'Epic action, mind-twisting mystery and relentless fun. The tension ratchets up page by page until it feels like the book is going to explode in your hands' Tim Glister, author of A Loyal Traitor
'D.L. Marshall is a master of weaving thrilling action set-pieces through an enthralling murder mystery. Impossible to put down, 77 North may just be the best yet!' Chris McGeorge, author of Half-Past Tomorrow
'Think Alistair MacLean but turbo-charged' Ian Rankin on Anthrax Island
'A first class thriller with an international cast of characters led by the inimitable and unstoppable John Tyler. Tense, intriguing and deadly' Mari Hannah, author of Without a Trace on Anthrax Island
'It's like the bastard son of Agatha Christie and Ian Fleming watched The Thing on repeat before bashing out a pacy, locked-room, action-adventure thriller' Trevor Wood, author of One Way Street on Anthrax Island
'Seriously, if Hercule Poirot and James Bond had a baby and sent him to the Jason Bourne School he would grow up to be John Tyler. Cars, cash, poison, guns, thrills chills and murder - this book has the lot' SE Moorhead, author of The Treatment on Anthrax Island
'Smart, rocket-paced and super twisty this phenomenal debut thriller is like a cross between Jack Reacher, Bond, and And Then There Were None. A real must read!' Steph Broadribb on Anthrax Island
'Fans of spy fiction will love this. Fans of detective fiction will love this. Fans of thrillers will love this... Everyone's going to love this! I wish I'd written it.' Russ Thomas, author of Firewatching on Anthrax Island
Format:
Paperback / softback
Dimensions:
198mm x 129mm x 22mm
Category:
Thriller / suspense
RRP: £9.99
Format: Paperback / softback
ISBN: 9781804364314
---
Shelves containing this book