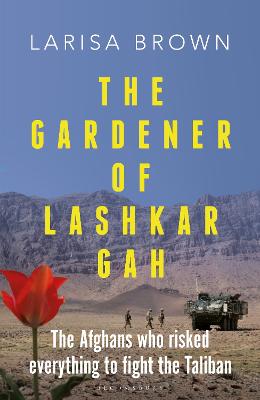 The Gardener of Lashkar Gah
From Shelf: The BA Christmas Catalogue.
"Beautifully researched and deeply moving, [this book] brought me to tears more than once" -- John Simpson, The Guardian "First-class...exhaustively researched and sensitively written" -- The Times The extraordinary true story of the Afghans who risked their lives for us The sudden withdrawal of British and American troops from Afghanistan in 2021, ended the 20 year war on terror, yet it also left Afghanistan to be reconquered by the Taliban. As violence and religious fundamentalism once again overwhelmed the region, thousands of Afghans who loyally served the British and American armies were left behind. This is the story of what happened to them when the West left The Gardener of Lashkar Gah follows the extraordinary journey of Shaista Gul, a kind former-policeman who built a beautiful garden inside a military base in Helmand Province that became famous as a calm oasis for soldiers with troubled minds. Other members of his family worked for the allies, including his son Jamal, who became an interpreter for the British Army when he was just a teenager. Following the chaotic withdrawal of allied troops, a suicide bombing at Kabul airport and a desperate scramble to re-unite loved ones and evacuate the region, all members of the family suffered. Larisa Brown - Defence Editor for The Times, award-winning journalist and a campaigner for the interpreters of Afghanistan - has spent hundreds of hours talking to members of the Gul family and others across the region in order to tell their remarkable stories. In heart-warming and beautifully human prose, she unspools a tale of courage, hope and sacrifice - with the beauty of the garden and the hopes and dreams of the family counterpointed against the violence, anger and chaos raging in Afghanistan at the time. The scandalous betrayal of many of the interpreters and others who worked for the British and American armies is still being revealed. By telling one family's bittersweet experience - The Gardener of Lashkar Gah provides a unique and powerful insight into the devastating effects on ordinary Afghans of the end of the 'War on Terror'.
Publisher:
Bloomsbury Publishing PLC
Published Date:
31/8/2023
Dimensions:
234mm x 153mm
Category:
War & defence operations
RRP: £25
Format: Hardback
ISBN: 9781399411028
---
Shelves containing this book